Written by
admin
, June 11, 2019 Posted in
25th anniversary
,
Announcements
,
Background
,
Business
,
Contributors
,
Friendship
,
Fun
,
In real life
,
My Girls
,
News
,
On The Web
,
Restaurant
,
Splath's Photos and Stuff
,
The Lighter Side
Cobblestones 25th Anniversary Party occurred this past weekend, and I am hard pressed to properly evidence the excitement, the energy, the excellence, and the overwhelming success it was!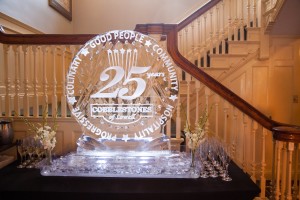 A first thank you as always to our entire team, led by director of operations Ken Woodrow, who delivered in every way by paying gratitude to all of YOU who got us here. A handful of management meetings, strategizing, organizing, ordering, praying, directing, and running around like mad—that's what they do/we've done for the past twenty-five years and still, maybe now even better than ever.
To staff that worked that night, damn! You all killed it! Nonstop amazing hors d'oeuvres from the chefs of both our restaurants, incredible service and hospitality and attention to our guests, a great raffle (run by Amie Arestani—a former employee who just keeps coming back for more of us!) that helped raise thousands of dollars for our Cobblestones – Plath Family scholarship at Lowell High School, incredible design by Mark Caputo—the place glowed like Kath Plath had requested ("Make it classy, don't worry about the budget. It's been 25 years.")
I WILL keep this as annotated as possible.
As expected, hundreds of you attended, including staff and guests from twenty-five years ago to current day. Original staff members from 1994 were in attendance, none looking any better than Denise Dubuque L'Heureux and her sister Sandy! Matt Sorensen, Ausrine Williams, Paul Dubuque, Tommy Mandile, Alan Corbeil…thank you all for being there! Who am I forgetting? What a whirlwind of a night…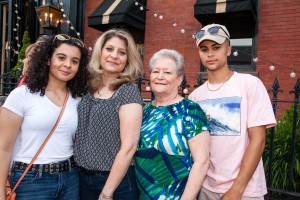 During my thank you speech—I promised to keep it under one minute per year "short" and I believe I was successful—I pointed out the ongoing embodiment of a theme that Kathy and I noticed from that opening party we threw twenty five years ago, throughout to this past Friday night. And that is this: The VIP's in this life are your friends and family. They are there for us now as they were twenty-five years ago and after our nearly disastrous fire in 2001. In numbers! In addition to you, hundreds of guests, family from Florida, New York and Chicago arrived for the weekend long celebration, including two of three amazing daughters (Aislyn, Tara and Kelli), the one and only Dave Plath who has lent his artistic expertise to our signs, menus, logos etc. since the beginning, and friends from all over, including fellow Massachusetts Restaurant Association board members from the restaurant industry: The owners of Piantedosi Bakery, Turner Seafoods, The Horseshoe Grill and others.
We were also very grateful that City Councilor John Leahy and his beautiful wife Joni joined us, as well as our friend and long term guest and supporter (and now Congresswoman!) Lori Trahan. We EVEN received a congressional citation—completely unexpected and totally awesome that she took that time out of her incredibly busy schedule. Lori, you are truly a rock star.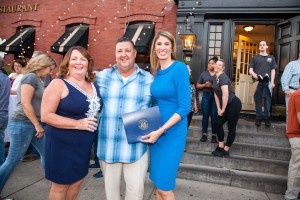 And what a great segue it was to point out the INCREDIBLE importance/contribution/dominance and wherewithal of the women of Cobblestones throughout our history! The five longest tenured employees at Cobblestones, 25, 20, 20, 13 and 12 years, are all women. The two most important former team members are also women, and both Kim Mello and Holly Johnson were in attendance. General manager Robin Dupell, there from "Day Two" continues to be the churning, grinding, super woman that drives this huge thing day-to-day, the embodiment of tough-love leadership and guest satisfaction.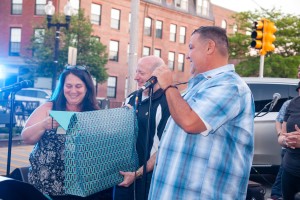 Clumsily, I thanked former chef and co-founder, the late Chef Ed Zaranski, whose wife Janet was in attendance and, duh, co-founder and my "perfect partner" Kath Plath, who continues to do what she has from, really, the day I met her at UMASS in 1981 (whoa). She keeps her finger always on the buttons of class, integrity, protocol, strategy, community and decorum—ALL those things that have staked us to the very special community connection and reputation that we embrace in this incredible and grateful city.
A special shout out goes to Erin McMahon—a former long term bartender at Cobblestones who now has an excellent Catering by Erin operation, who "loaned" us two great staff members—Kim and Allison—as we worried we didn't have enough folks to pull it all off.
Also, to the incredible band Hal Holiday & The Tones, founded and directed by original employee and former chef Paul Dubuque —who hit every "note" perfectly throughout—even after rearranging the set list when we told him days in advance that we wanted to tone the whole thing down from "raucous festival atmosphere" to a more stylish environment.
He said: "Don't worry, I'm used it by now. I've known you 25 years!"
We are also grateful to the fabulous Dacey Zouzas for covering the event for The Z-List – stay tuned for #thezlist feature!
I'm leaving out hundreds of folks here—I won't remember everyone and you are already probably bored.
A warm, GIANT thank you to the many donors to our scholarship fund, supporters and sponsors who helped make our 25th anniversary event be the really special celebration that it was—To John Chemaly and Trinity Ambulance who step up each and every time, COKE—a great partner for 25 years, our good friends at Hammer+Sickle, Aquitaine Group, Burtons, Turner's, The Seaport Hotel, The Boston Colonnade, Jack's Abby Lagers, Boston Wine Group, MS Walker, MV Distributors, Kelly's Roast Beef, Circle Health, MCC, Owl Stamp, Paul Marks, Seaboard Products, Wahlburgers, The Lowell Memorial Auditorium, Reuben John, Flowers By Albert, OUR flower guy for 25 years, Meg Moore, photographer extraordinaire, the list goes on….
And finally, for those who have read this so far…again, YOU!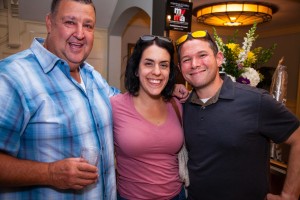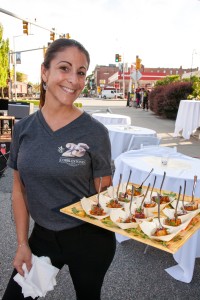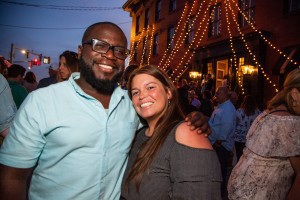 TWENTY-FIVE years of staff, guest, and community support has delivered Cobblestones to this rare milestone and despite how incredible Friday night's testimony was, it represented just a tiny fraction of how grateful we are for you all.
For each minute we have been here, 13 million thanks, a million times over!
-Scott and Kathy on behalf of the entire Stones Hospitality family