Written by
admin
, June 17, 2019 Posted in
Announcements
,
Background
,
Business
,
Friendship
,
Fun
,
In real life
,
Restaurant
,
Splath's Photos and Stuff
,
The Lighter Side
A triumphant nephew's high school graduation, ongoing restaurant-trends research, Father's day and an unanticipated citywide celebration of love and acceptance: For perhaps the first extended period of calm I've had in the past four days, the gentle sway of my homeward-bound Amtrak train lulls this recounting of a fabulous, and exhausting long weekend.
Initially inspired by my brother's eldest son's graduation, from Manhattan's prestigious Xavier High School—that solemn ceremony initiated an ongoing four-day escapade in "my" city that never sleeps!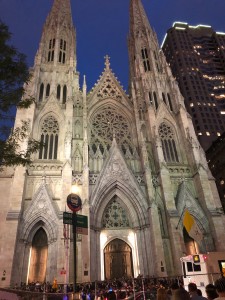 Hosted by the iconic St Patrick's Cathedral, emotion and great pride were largely held in restrained-check for graduate's families for two hours, aside from incessant applause. During the weighty ways of Catholic ceremony–a thousand folks- strong adhered to the "no cheering" request in deference to the "sanctity of this historical place." The preaching of community, service and love-thy-neighbor was repeated throughout as the ceremony laid what was both a fitting but also ironic foundation for a weekend rich in beautifully bold and ubiquitous displays of solidarity—as the celebration of gay pride month colored much of Manhattan.
Our journey included multiple opportunities for (suggested) restaurant-trend research in this culinary capital of the world, golf in the Bronx for father's day with me three favorite dudes (where cheering and jeering was both permitted and prevalent) and, as with any weekend in NYC, we walked miles upon miles as I can think of few places where the eyes can see such a spectrum and spectacle in such a concentrated area.
The juxtaposition of the (unlikely) Jesuit based discipline that provided my nephew Lucky with the opportunity to achieve honors—this free-thinking, love-generous city-kid now college bound– and the breadth of creativity in rainbow representations—from both the expected progressive enclaves of Chelsea, Greenwich Village and SoHo, in bakeries and barbershops, to the doors and windows of corporate giants like Google, Macy's and TD Bank has left me awestruck.
I will follow this blog with notes on restaurant-discovery that we sandwiched in between all of the celebration, sometime after this nap—the train now well beyond city limits, meandering through sleepy Connecticut towns like…feeling love…feeling lucky…and fuzzy…