Porto, Matosinhos, Douro Valley, Coimbra, Nazare, Fatima, Obido, Sintra, Lisbon, The Algarve
Of our aggressive destination-goals listed above, with just the 1st two days planned, we would try to "see all of Portugal" while what "roughing it" looks like when your spoiled and in your 50's–Renting a nice car and using Google and Trip Advisor to locate "Top 10 Places to Stay when visiting…".
Along our journey, we skipped a couple before ultimately running out of personal "gas"–landing in and loving Lisbon too much to continue exploration—beyond what could be walked to or found by trolley. (And three days in Lisbon, the food scene alone, was not enough time! More on that in a final Portugal post to come)
For days, we'd select a destination, drive, get restless, Google, book a room, land, see the sights, find a "local" restaurant and or bar, eat and drink well (make notes), struggle with the language, sleep hard, rinse and repeat…like that.
First came the (first) sleepy seaside town (Matosinhos, North of Porto), before heading inland to the mountainous region of the Douro Valley, winding and winding, up and then down, then back up and then back down, steep undulating mountain roads… for hours.
We finally landed at Quinta da Pacheca Vineyards—Originally Pacheco—but…husband dies, wife takes over, "a" in Portuguese denotes feminine…Pacheca. A woman-owned vineyard, and a rare thing.
Road-weary, and so happy to have arrived, as the ubiquitous sweet-sour smell of fermenting-grapes in the constant hilly-breeze turned my mood to giddy. And, as we pulled into the long Oak-lined driveway, I spotted giant wine barrels, lying on their sides, lining a hill in the distance—but, wait, why do they have…are those glass walls on the ends…is there someone in that barrel opening that glass wall and stepping outside…wait, what the…?
Kathy had warned of a surprise once in the Valley, and her smile created the clarity—those wine barrels in the vineyard had been converted to sleeping rooms, and that was where we'd be for the night… So stupidly cool!
In steady sequence, we checked in, dropped our bags in our personal wine-barrel, attended the short, efficient Pacheca group-wine tour and finished with a, duh, wine tasting, with ten other thirsty, overnight guests.
(FYI, it was the worst wine tasting ever, if you enjoy engagement and tour-guide discussion. The best, if you prefer a snarky tour guide who wants to be done for the day and leaves you be, to get to drinking wine with strangers!)
Next, an amazing dinner, with, duh, wine pairings—and that's really all I remember of it! We then headed back to our personal wine-barrel, enjoyed the rain-style shower-room, used the light, nighttime breezes (in the vineyard) to help "air dry"…polished off the remaining port and eventually fell asleep on the (round) bed, under the rounded wooden "ceiling" (with skylight), enjoying the light, all night breeze through the wide-open rounded glass door. Fortunately for our drunken-slumber, no wild foxes or boar or lynx joined us during the course of the night! That we know of.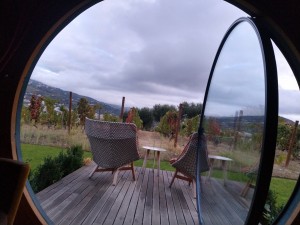 After a morning version of the rain shower, we were off again, taking the more direct highway route and a return to the coast, to Nazare—where an American surfed the biggest wave ever on record—an 80 foot monster on North Beach in 2001.
Legend has it that since that day, Nazare has morphed into a small "fishing town with a surfing problem"—a new destination for extreme surfers and their fans—surfer tourism!
We sat in the sand for an hour, awestruck by the continuous, thundering of "only 14 to 20 foot" waves, unable to fathom them being 4 to 5 times as big. Scary shit.
We spent the night in this 2nd sleepy beachside town in (4) days, a room with an ocean view (and soundtrack!) for less than $100. A seafood dinner and another incredible, "local" bottle of wine followed—the bill equivalent to under $50!
We'd be heading for Sintra, then Lisbon in the morning.